By signing up today, join thousands of people who have seen God act in their lives through reading the free daily encouragement email, "A Miracle Every Day." God desires to transform your life, one day at a time!
The worst thing that could happen to you is to distance yourself from God for fear that He won't accept you as you are.
No door is closed to God's eyes. Does this thought scare you? Or rather, does it reassure you?
When our loved ones suffer, we want to be near them to comfort them, relieve their pain, help them. Unfortunately, this isn't always possible. So what should we do?
One prayer and God can propel you into another dimension that you haven't even imagined.

Eric Célérier, a pastor, innovator, and internet evangelist based just outside of Paris, is the author of "A Miracle Every Day." He is one of the original pioneers of internet evangelism and founded Jesus.net, the largest network for internet evangelism and discipleship in the world! Jesus.net is currently in 33 languages and involves more than 60 Christian organizations. The English version of the website is PeacewithGod.net. Eric also created TopChrétien.com, the most widely-read French Christian website in the world. Over the last 30 years, he has been in close relationship with Billy Graham and the BGEA (Billy Graham Evangelistic Association) and considers Billy Graham his spiritual father. God has also divinely connected Eric's ministry with international partners such as Joyce Meyer.
"God has placed within me a passion for encouraging and helping my neighbors and fellow believers. This is why, after creating TopChrétien and Connaitredieu.com (meaning 'Knowing God' in English), it was in my heart to start a more personalized ministry. Thus began the daily email called 'A Miracle Every Day.'
This idea was born out of a time of prayer in the mountains of Colorado, in the United States. It's as if the Holy Spirit said to me: 'Eric, encourage My people. I am a living God and I desire to manifest My presence in the lives of my children.' We all need to be encouraged to believe again in the God of miracles! (Mark 16:17-20, Acts 1:8)"
In August 2015, "A Miracle Every Day" was officially launched in French in conjunction with social media channels. The ministry now has 250,000+ subscribers in the French-speaking world, and the Lord has put it in Eric's heart to launch it in English—first in the U.S., then in India, and around the world!
"I am amazed by all that God has already accomplished through these words of encouragement. I give Him all the glory! I pray that this 'daily bread' is a real blessing for you and launches you into the destiny God has planned for you!"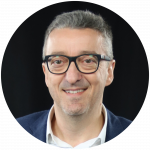 The Daily encouragement email A Miracle Every Day is available in different languages. Is your language available yet?